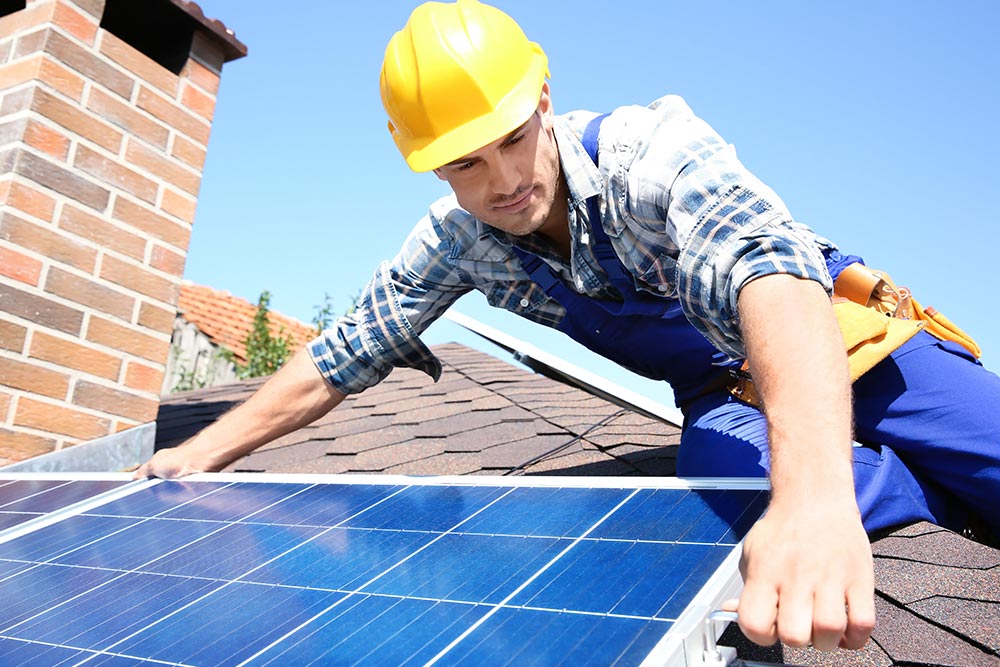 Businesses offered the opportunity to work with Action on Energy to provide retrofits across Cambridgeshire
Businesses specialising in home energy improvements are being invited to apply to join a new bank of council-endorsed traders.
Those who are successful will be called upon to carry out energy retrofit works in homes across Cambridgeshire using government funding. Example of the works include improving energy efficiency and/or replacing older or inefficient heating systems with new low carbon heating options such as air source heat pumps.
They will also have the licence to operate under our trusted council-backed 'Action on Energy Cambridgeshire' branding. This will allow people who own their homes, but who are not eligible for government-funded schemes, to access traders appointed to the scheme for work that they pay for themselves.
The aim is for this accreditation to give householders more confidence in work carried out.
At this month's Cambridgeshire County Council Environment and Green Investment Committee, members gave their approval for the authority to enter into an agreement to become part of the Domestic Energy Efficiency Framework currently being procured by the Cambridgeshire Energy Retrofit Partnership (CERP).
CERP - a collaboration between the Cambridgeshire County Council, Cambridge City Council, Fenland District Council, Huntingdonshire District Council, East Cambridgeshire District Council and South Cambridgeshire District Council – has already secured £6.5million under the Government's Sustainable Warmth schemes to spend on home improvements to those Cambridgeshire properties with the poorest energy rating.
With further rounds of funding expected from government up to 2025, Cambridge City Council, on behalf of CERP, is seeking contractors for a four-year framework to deliver the works.
It will enable all members of the partnership to call on a bank of endorsed traders when government funding is secured to carry out energy efficiency improvements including insulation, solar PV, heat pumps and double/triple glazing to people's homes.
Cllr Lorna Dupré, chair of Cambridgeshire County Council's Environment and Green Investment Committee, said:
"We have made significant efforts in recent years to retrofit homes to make them more energy efficient thanks to the success of the Action on Energy project, which has proved very successful at attracting government funding.

"The Government has told us that more money will be coming our way, so it is vital that we have a bank of traders that we can call on to complete the works for our residents when this happens. "This is a great opportunity for businesses specialising in home energy improvements to be at the front of the queue when we secure funding to spend on improvements to people's homes and for residents to call upon when they want work completing privately. It also allows those businesses to support our vision to achieve net zero for Cambridgeshire by 2045 by improving the energy efficiency of those homes which have the poorest rating."
Action on Energy Cambridgeshire successfully secured grant funding from the Government's Sustainable Warmth Competition in January to support improvements to low income, low energy efficiency rated homes.
Nearly 400 homes across Cambridgeshire are expected to benefit from improved energy efficiency thanks to the Government funding of more than £6.5 million. Action on Energy was also previously awarded more than £2 million in February 2021 to deliver domestic energy efficiency improvements. Further funding is expected in the future.
More information about the scheme, visit .Gov website Contracts Finder
The deadline for tender submissions is 12pm on 28 September 2022. This scheme is now closed for submissions.